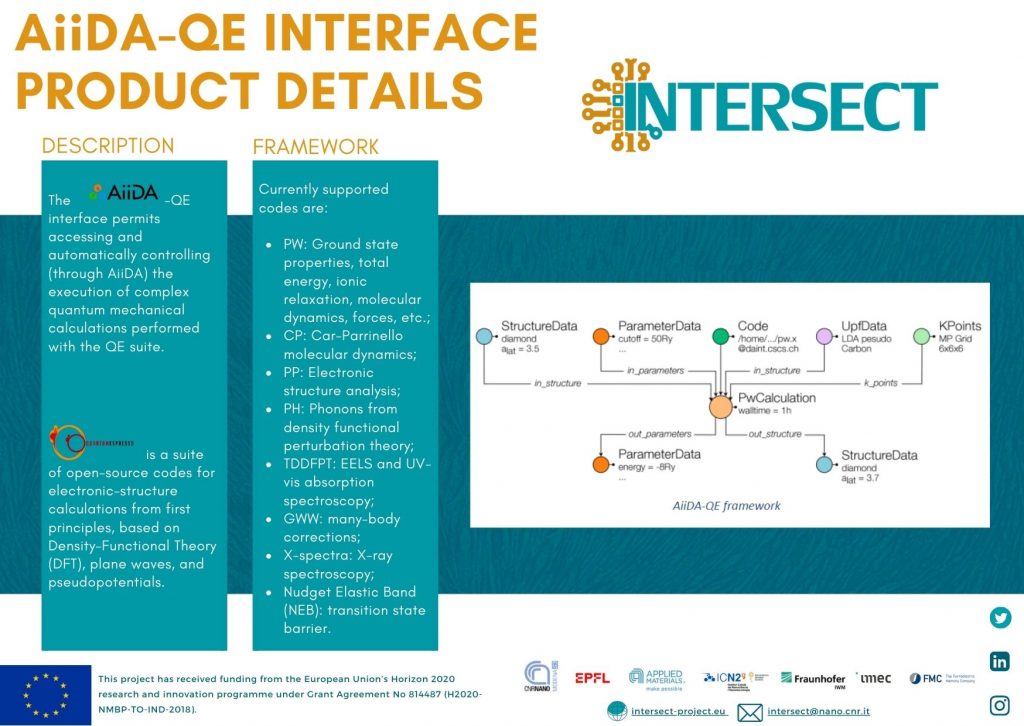 The INTERSECT AiiDA-QE interface permits accessing and automatically controlling (through AiiDA) the execution of complex quantum mechanical calculations performed with the QE suite.
Quantum ESPRESSO is a suite of open-source codes for electronic-structure calculations from first principles, based on DFT, plane waves, and pseudopotentials.
Currently supported codes
● PW: Ground state properties, total energy, ionic relaxation, molecular dynamics, forces, etc.
● CP: Car-Parrinello molecular dynamics
● PP: Electronic structure analysis;
● PH: Phonons from density functional perturbation theory
● TDDFPT: EELS and UV-vis absorption spectroscopy
● GWW: many-body corrections
● X-spectra: X-ray spectroscopy
● Nudget Elastic Band (NEB): transition state barrier
Business Model
Free and Open Source Software (FOSS). This GPL software can be exploited for electronic-structure calculations and materials modeling consulting services.
Read more on Deliverable 4.7 "Business Plan Assessment and Revision" and write to intersect@nano.cnr.it for information.
Discover other INTERSECT key exploitable results on our website